May 22, 2023
AIFC invites to High-Level Panel Sessions at Astana International Forum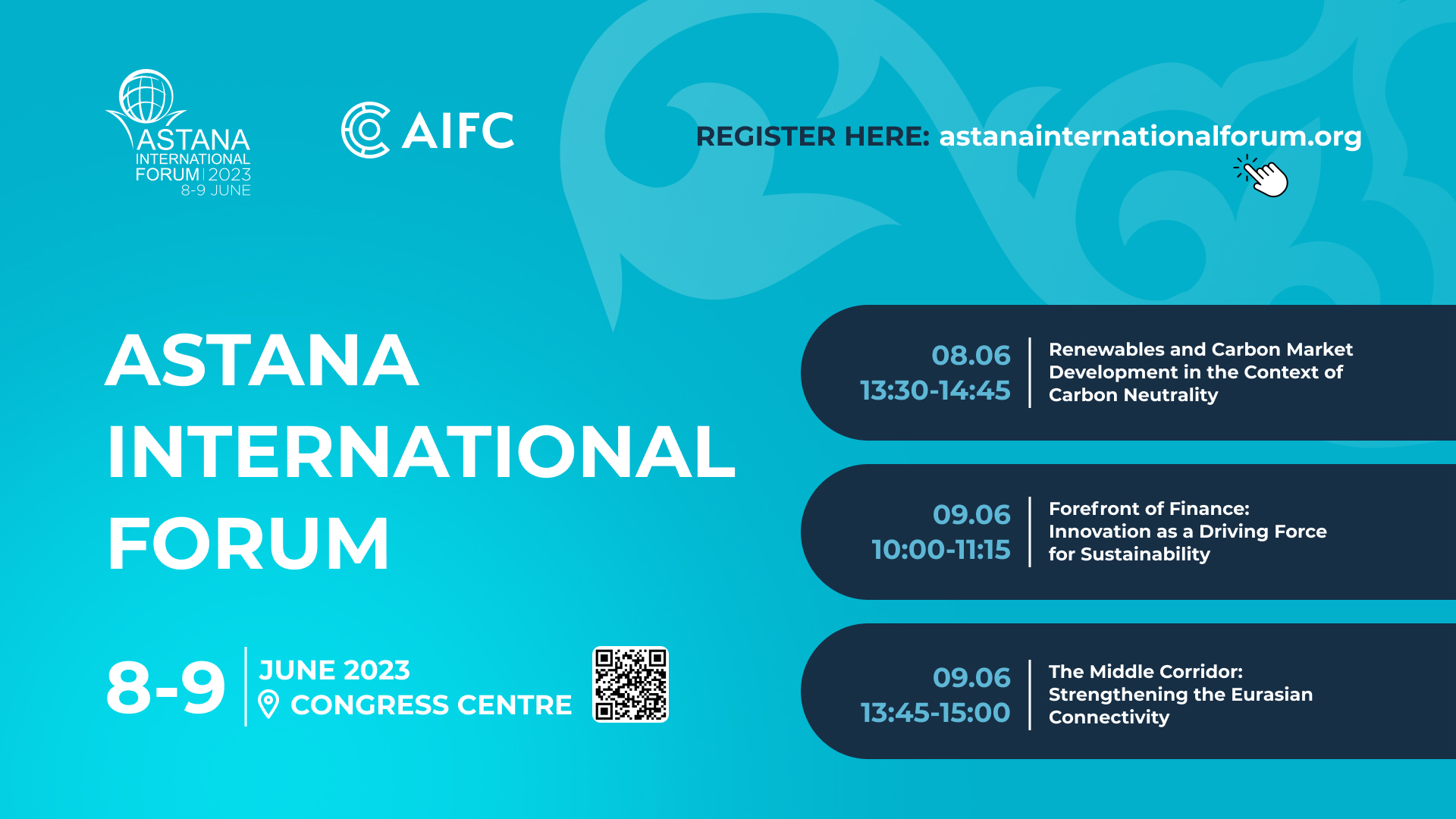 Astana, Kazakhstan – May 22, 2023
On June 8-9, 2023, Kazakhstan will host the Astana International Forum (AIF), organised under the initiative of President Kassym-Jomart Tokayev. The forum aims to address key global issues such as foreign policy, security and sustainability, energy and climate, as well as economics and finance.
The Astana International Financial Centre extends invitation to take part in a series of high-level panel sessions during the Astana International Forum. To secure access to the AIF please register here https://astanainternationalforum.org/.
RENEWABLES AND CARBON MARKET DEVELOPMENT IN THE CONTEXT OF CARBON NEUTRALITY
Date: June 8
Time: 13:30-14:45
Venue: Congress Centre, Caspian Hall
Renewable energy and carbon markets are critical components of the global effort to achieve carbon neutrality. Renewable energy technologies are essential for reducing GHG emissions and transitioning to a low-carbon economy. Carbon markets, on the other hand, create a financial incentive for companies to reduce their emissions and promote carbon reduction projects, in which renewable energy plays an important role.
This session will discuss how to connect renewables and carbon markets more closely to achieve greater synergies and maximize the impact on carbon neutrality. The session participants can also learn how the development of these markets creates significant opportunities for low-carbon investment and innovation.
Moderator: Charlotte Kan, print & broadcast journalist and presenter, ex-Bloomberg
Speakers:
Dosbol Bekmagambetov, Vice Minister of Ecology and Natural Resources, Kazakhstan
Mohamed Jameel Al Ramahi, CEO, Masdar
Marco Arcelli, CEO, ACWA Power
Riad Meddeb, Director, the Sustainable Energy Hub, UNDP
Aida Sitdikova, Director Energy for Eurasia, Middle East and Africa, Sustainable Infrastructure Group, EBRD
FOREFRONT OF FINANCE: INNOVATION AS A DRIVING FORCE FOR SUSTAINABILITY
Date: June 9
Time: 10:00-11:15
Venue: Congress Centre, Caspian Hall
Kazakhstan's resilience in the face of uncertainty, including financial crises, the pandemic, and geopolitical tensions, is evident through its focus on non-oil sectors, FDI inflow, GDP growth, and public-private sector collaboration. The country is now leading the way in digital and fintech innovation in Central Asia, setting targets for the digital economy, supporting financial services innovation, and recognizing the transformative potential of emerging technologies and data science. This high-level session offers finance industry executives and investors an opportunity to explore investment trends in the Eurasian region, emphasizing the importance of mutual learning and modernization to shape the future of finance in a rapidly changing world.
Moderator: Jonathan Charles, International Adviser to Kazakhstan, Former EBRD Managing Director, ex-BBC journalist and presenter
Speakers:
THE MIDDLE CORRIDOR: STRENGTHENING THE EURASIAN CONNECTIVITY
Date: June 9
Time: 13:45-15:00
Venue: Congress Centre, Caspian Hall
Shifting trade flows and the global geopolitical environment are forcing countries to find new outlets to international markets and diversify their traditional trade routes. In this context, the Middle Corridor – which connects Europe and Asia – has become an important route in diversifying and strengthening the connectivity on the Eurasian continent.
The realisation of the Middle Corridor's potential depends on close coordination between all stakeholders along the route, especially regarding investments and regulations. Kazakhstan, in turn, can offer its own infrastructure to ensure uninterrupted trade flows along the route and capabilities of the Astana International Financial Centre to structure deals, attract investments, and facilitate cross-border transactions.
The session will discuss global and regional trends in international trade, challenges related to trade regulations and international agreements along the route, investment and cooperation needs to expand and modernise the existing infrastructure and create new ones, and transformation of the route to the regional economic corridor.
Moderator:
Jonathan Charles, International Adviser to Kazakhstan, Former EBRD Managing Director, ex-BBC journalist and presenter
Speakers:
Nurlan Sauranbayev, CEO, Kazakhstan Temir Zholy
Zsuzsanna Hargitai, Managing Director for Central Asia, EBRD
Wiebke Schloemer, Director for Central Asia and Turkey, International Finance Corporation
Dr Yang Zhao, Managing Director, China International Capital Corporation (CICC) Global Institute
To secure your access to the Astana International Forum and take part in these high-level panel sessions, please register at AIF website: https://astanainternationalforum.org/.
Reference:  
Astana International Financial Centre (AIFC) – is an independent jurisdiction with a favourable legal along with well-established infrastructure for starting and doing business, attracting investments, creating jobs and developing Kazakhstan's economy.